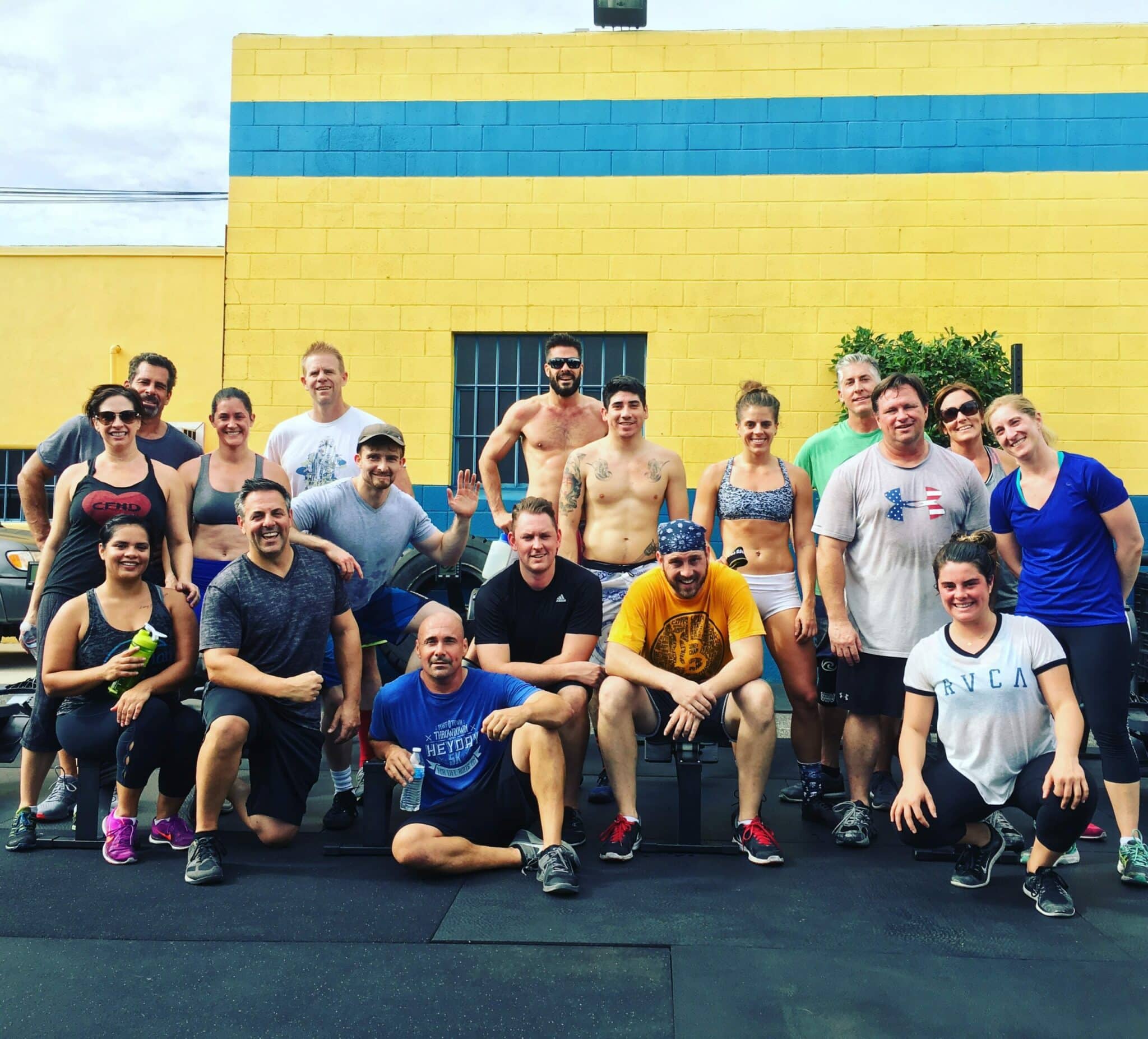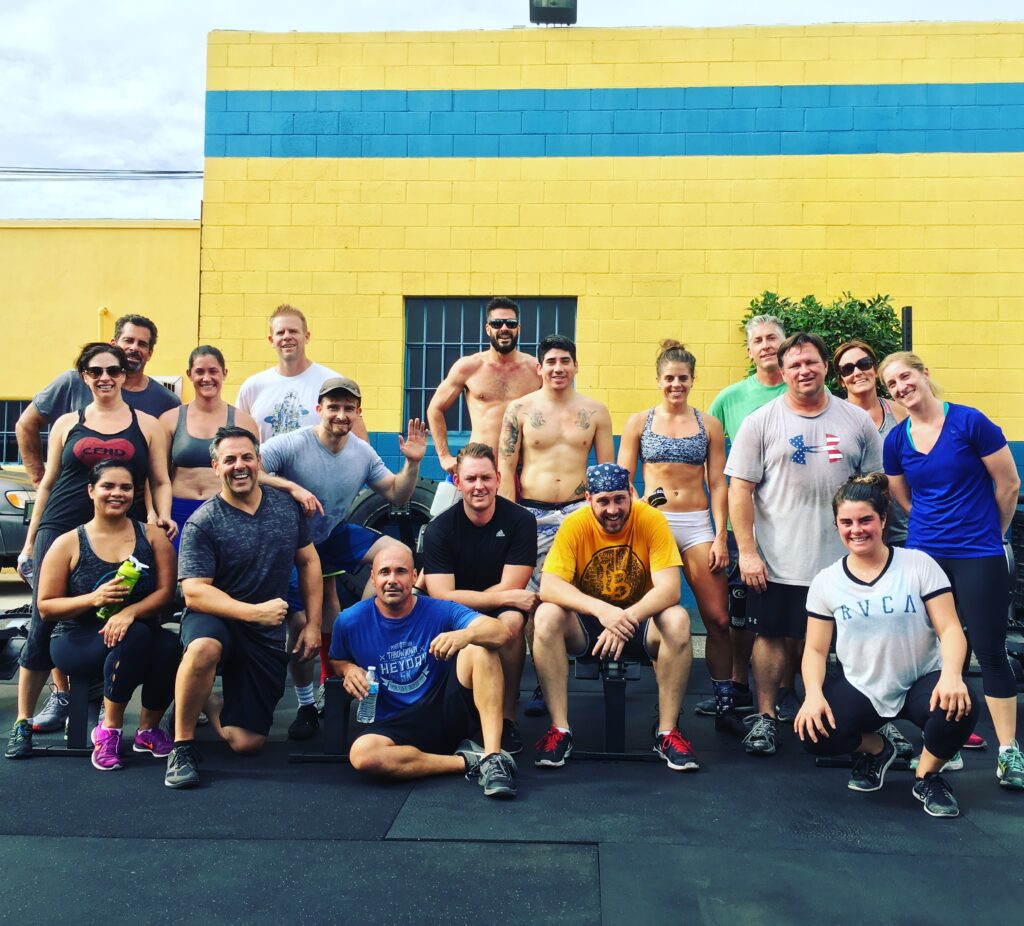 Heyday is a small private gym located just a short drive along the coast from Palos Verdes in the heart of downtown San Pedro.
We train a group of dedicated athletes composed of moms, dads, grandmothers, young professionals, and collegiate & high-school athletes.
Almost everyone here started as a complete beginner but stayed because they were serious about getting in great shape and meeting their goals. The group here trains and supports each other to be the best they can be.
We follow follow several disciplines in our programs. Among them, is a kind of training known as CrossFit. It means we the vast majority of what we do utilizes compound movements that engages multiple muscles at the same time.
This allows people to get much more benefit (and get it faster) than using traditional machines.
We've found this to be the ideal methodology for busy people who still want to get to or maintain a high level of fitness and low body fat but simply lack the time to spend more than an hour in the gym.
Everything we do is a "functional" movement meaning our workouts have benefits in the real world beyond just "looking good". You learn how to squat, lift, run, throw, and generally move better just by learning our exercises.
We use "unconventional" equipment like tires, kettlebells, olympic rings, ropes, sandbags, and olympic barbells. Most people never use any of this stuff but we show you how to utilize them safely to dramatically improve your fitness.
We are different from other gyms in many ways, but one of those ways, is that we have no interest in "selling you" on our program. We understand that getting in shape is highly personal journey and we may not be for you.
If you're not happy, we won't take your money.
The door is always open, for you to stay or go. We don't want people who don't want to be here.
Fitness is a big decision but it's not one we can make for you. People only make changes when they are ready so we don't force it.
If you work out here, we will know your name and your goals. We will hold you accountable and track your progress to ensure you are improving. We will support you every way we can. That is the difference.
For more info on how to try a free workout and do 2 weeks unlimited for $47 call:
310-853-5302
Many of our prospective members are new to Palos Verdes so below I've included some helpful info about "The Hill":
Palos Verdes can be considered as an oasis of greenery in Los Angeles County. It has received much attention for nature walks, Eucalyptus trees, tidepools, ocean cliffs, the lighthouse and horse trails. The Palos Verdes Peninsula is made out of four different cities, which include Palos Verdes Estates, Rancho Palos Verdes,, Rolling Hills Estates and Rolling Hills.
Palos Verdes is a Spanish term, meaning green wood or green stalks. Originally it was a part of the massive ranchos that were owned by Sepulveda and Dominguez. However, the city was later purchased by a banker named Frank Vanderlip. Development activities in this city started back in 1920s. At the moment, the city is equipped with strong development and architecture committees.
You can visit Palos Verdes via three major routes, which include Hawthorne Blvd, Western Ave and Palos Verdes Blvd. However, it is important to keep in mind that no major highway touches the peninsula.
Sights to see in PV
Plenty of attractions are available in Palos Verdes for the people to enjoy. Malaga Cove holds a prominent place out of them.Home to a stunning library and a shopping plaza, which is equipped with beautiful Spanish architecture. They were built during the late 1920s and the vintage look has been preserved throughout. In addition, tourists can think about visiting the Neighborhood Church while spending time in PV. The church was constructed by a merchant businessman named J. J. Haggarty back in 1927.
The Point Vicente Lighthouse that you can find in Palos Verdes has contributed much to the popularity of the town as well. It is infamously considered a haunted lighthouse, which was constructed back in 1926. Even though the lighthouse is closed to the public, a small museum and the tower that is located in close proximity are available for you to see and enjoy.
If you're a nature lover, you might wanna make the trek to the Abalone Cove while you're exploring Palos Verdes and it's neighborhoods. Trails that lead from the beach up to Portuguese bend are available from here.
Things to do in Palos Verdes
People who visit Palos Verdes are provided with plenty of things to do and enjoy their time. It would be a pleasurable experience to walk along the tidepools. You will also be able to find the rusting wreck of a ship, which is located towards the Northern part of the Lunada Bay. Most of the people who visit Palos Verdes prefer to spend their time hiking. The availability of nature trails can make hiking an exhilerating experience. In addition, you will also be able to take part in many other activities such as surfing and horseback riding.
If you want to take a break from the concrete jungle in California, Palos Verdes is the best place available to visit. A stay in PV has the ability to deliver a unique experience, anyone would love.